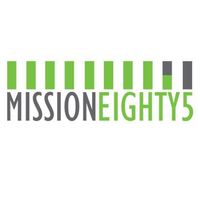 I'm happy and excited to announce my partnership with MissionEighty5™ Music. The debut album, "Scandal of Mercy" (©2016 MissionEighty5 Music), features the original songs of myself, Ike Ndolo, Steven Joubert, Paul J. Kim, American Idol contestant, Thomas Muglia, and an original rendition of "Amazing Grace" performed by Sarah Kroger.
Here's a remake on one of my original standards, "Despite," with a music video to boot!
Available February 24, 2016 on iTunes, Google Play, Amazon and CD Baby.
Join our release celebration at the LA RECongress, Friday night, February 26, 2016 at the Los Angeles Archdiocese's beautiful Christ Cathedral (formerly the Crystal Cathedral).

MissionEighty5™ Music seeks to bring to the world the voices of accomplished and emerging artists who deliver messages of hope, healing, compassion, forgiveness, and grace.